Chariots of Hire Returns to St Andrews
Natasha Franks profiles St Andrews' finest rickshaw business.
Student enterprises are not an uncommon creation within St Andrews. Charity balls and fashion shows corrupt our timelines, suffusing our social media with bids for table ballots and ticket sales. When an event grows stale, a rebranding is initiated, resulting in the same old thing dressed up in different colours. It would be no surprise to learn that we, the people, have become immune to the excitement generated by a relaunch: For all the buzzwords that committees throw at us, many organisations are ultimately identical in their ordinariness, lost in the shuffle of the great St Andrean deck of cards.
Chariots of Hire is no ordinary student-led initiative. An ace among jacks, it seeks to transcend the expected, to move beyond the desperate throng of dreamers and establish something real, tangible, powerful. Few things cut as searing a figure as that of a rickshaw silhouetted against the dusky horizon; once one glimpses the image of a Chariot, it will not soon be forgotten.
Since 2015, these rickshaws have swept through St Andrews like the winds of change, altering the ways in which we travel and view the world. The boys behind the company hope to kickstart a culture of sustainable development, in addition to promoting physical fitness with a passion that would make Michelle Obama proud. Not only do rickshaws lack a carbon footprint, but they are easily the most viable option for students seeking short-term transport. The walk from Ma Bells to Market Street may be long on unsteady feet, however a rickshaw can make the journey both bearable and memorable.
An original member of the Chariots of Hire team, Charlie Buchanan-Smith remembers the fateful hockey session that precipitated the creation of CoH: He and fellow founder James Webb pondered on the possibility of welding their bikes together, an inspired brainstorming session that eventually led them to purchase a genuine rickshaw from Aberdeen. Two more rickshaws were soon to follow, along with two additional members of CoH. By November, the enterprise was fully operational.
The graduation of three members of CoH ushered in a new era for the fledgling company. This year, Buchanan-Smith has taken the wheel, supported by three fresh drivers: George St Quinton, Aidan Thomson and Charlie Slater. These boys quickly proved their compatibility with the chariots during an intensive training course orchestrated by Webb and Buchanan-Smith. Now fully certified, they can be found throughout town, whether pre-booked or for a spontaneous ride.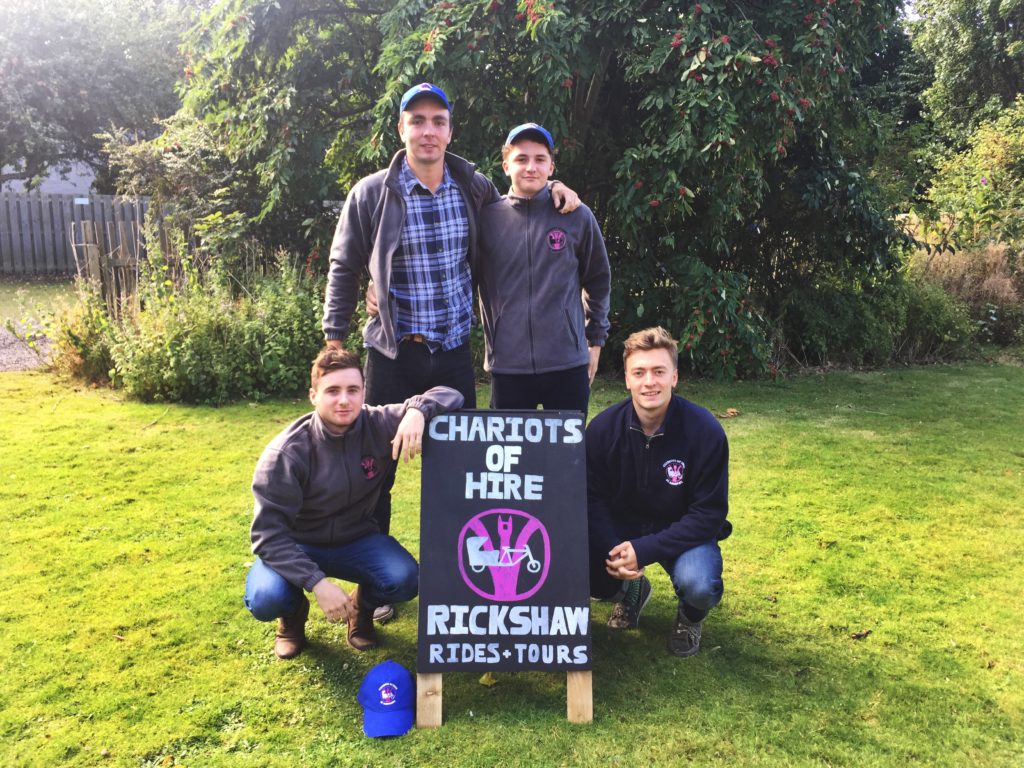 Although hailing from eclectic backgrounds, each member of Chariots of Hire shares a common ambition, an understanding that these rickshaws have the ability to change St Andrews. Rather than enduring the judgemental grumblings of a taxi driver, students can be escorted home by one of their own. "We've all been there," says Thomson. "We know what it's like. You can eat Dervish in these rickshaws if you want – it's the best place in town for a Dervish." His statement channels the underlying desire of CoH to provide comfort to their passengers – mentally, physically and socially. Buchanan-Smith emphasises that, in addition to being environmentally friendly, the rickshaws are a place to chat and to relax, as passengers may bask in the novelty of an open-air journey home.
Recognisable by their branded caps and jackets, the boys cater to students who wish to arrive and to leave parties in style. From DONT WALK to GIG, heads turn as the purple bikes cruise down Greyfriars, coasting along the cobblestones without the slightest shame. It is on student-centric evenings like these that CoH truly shines: Buchanan-Smith notes the difficulties of coxing sober individuals into their rickshaws, attributing their nervousness to the relative eccentricity of the contraptions. St Quinton recalls riding on several rickshaws in London, and both Buchanan-Smith and Thomson reference the rickshaws of Edinburgh. In St Andrews, however, rickshaws are an oddity, curious considering that the small size of our town lends itself to physical transport.
Ambitious and innovative, Chariots of Hire continues to look to the future. They welcome the potential for corporate sponsors and local partnerships, and they fully intend to continue their frequent event appearances. In the hands of such capable students, the enterprise's potential for expansion is limitless. Already the list of CoH's uses is a lengthy one – escorting a couple on date night, ferrying committees to an intimate event, giving personalised tours of the town. There are few things that these boys cannot do, and they intend to grow even larger as their prospects increase. New drivers are welcome to apply to join the CoH family in their ever-expanding empire. As summarised by Slater: "Big things are coming." Best not miss them.
If interested in cycling for Chariots of Hire, please email [email protected] to join the team. Like them on Facebook for contact information and updates on upcoming events.
Comments
comments